"I don't have any special talent. So I have no choice but to do my best in all things."
Ariel Rossi is the pilot of the Red Lion. Her medals can be collected after completing an achievement. The amount of medals varies from each achievement.
Personality
Serious, hardworking; full of military spirit in her action and words; nevertheless, tenderhearted
Background Story
Spending her childhood in a slum of Italy, Ariel's life has been far below standard. Poverty has turned her into a professional thief, with a nickname "the Wind of Rome."
One day a group of men in black suits seize her. The boss of the group introduces himself as Henry and suggests that he would look after her. Henry confesses that her mother was his first love, and Ariel decides to follow him.
Henry takes her in as his own daughter, and Ariel looks up to him as her father. In the meantime, Kein and his Empire starts the world war. Being a talented weapon developer, Henry enrolls in the Weapons Engineering & Development in R.E.A.P as an adviser. Ariel also enlists in GODDESS KISS, so she could return to her happy life with her godfather as soon as possible.
Ariel—with Jung E-young—assists the head commander with situation report and operation proposal. As her childhood was a chaos, Ariel loves the orderliness of the military. She enjoys using formal military vocabulary, although she mistakenly speaks in girlish cheerful tone once in a while.
"I'm ready for some action. Whenever you are ready, Commander!"
Skills
Name
Description
Effect
Icon
Concentrated Firing
Attacks single enemy with Mini Gun.
100% ATK Damage.

+0-5095 Bonus Damage.

Raging Lion
Attacks target and enemies both left and right with Grenade Launcher.
190% ATK Damage.

+0-7350 Bonus Damage.

Retaliation
Retaliates with Mini Gun when attacked.
250% ATK Damage.

+0-5141 Bonus Damage.

Bind of Courage
Increase All Ally Unit's ATK when battle begins.

ATK is increased. (5 Turns)

+1.00-77.54% ATK Bonus.
*Specific damage numbers may change.
Tactics (Arena)
Using Ariel
The Red Lion's skill gauge fills up easily and its Retaliation skill helps even more. Place her in front of an enemy units which has one full column in order for them to take damage from the skill, Raging Lion.
Countering Ariel
The Red Lion is a strong unit that can not only cause massive damage but it can also boost the team's attack power. 
The Red Lion is usually paired up with the Justice (Jung E-young).  When both are seen in the same team, it will indicate that you will need either an attack buff or a defense buff.
Avoid having units side-by-side, especially near the start of the match.  The Red Lion's Raging Lion skill can wipe out 3 units if you're careless.
Have a healer to recover damage taken from the Red Lion's Retaliation.
Gallery
Christmas outfit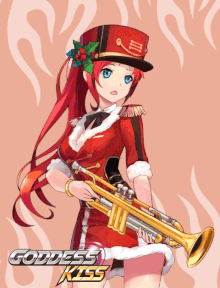 Battle Suit